YASMIN, MADDIE & LAUREN MILLS
We join the lovely Mills ladies on their gorgeous summer holiday in Ibiza. The girls chat to us about living as a family during lockdown, new routines and their sustainable lifestyles.
Photography by Clarrisa Sofia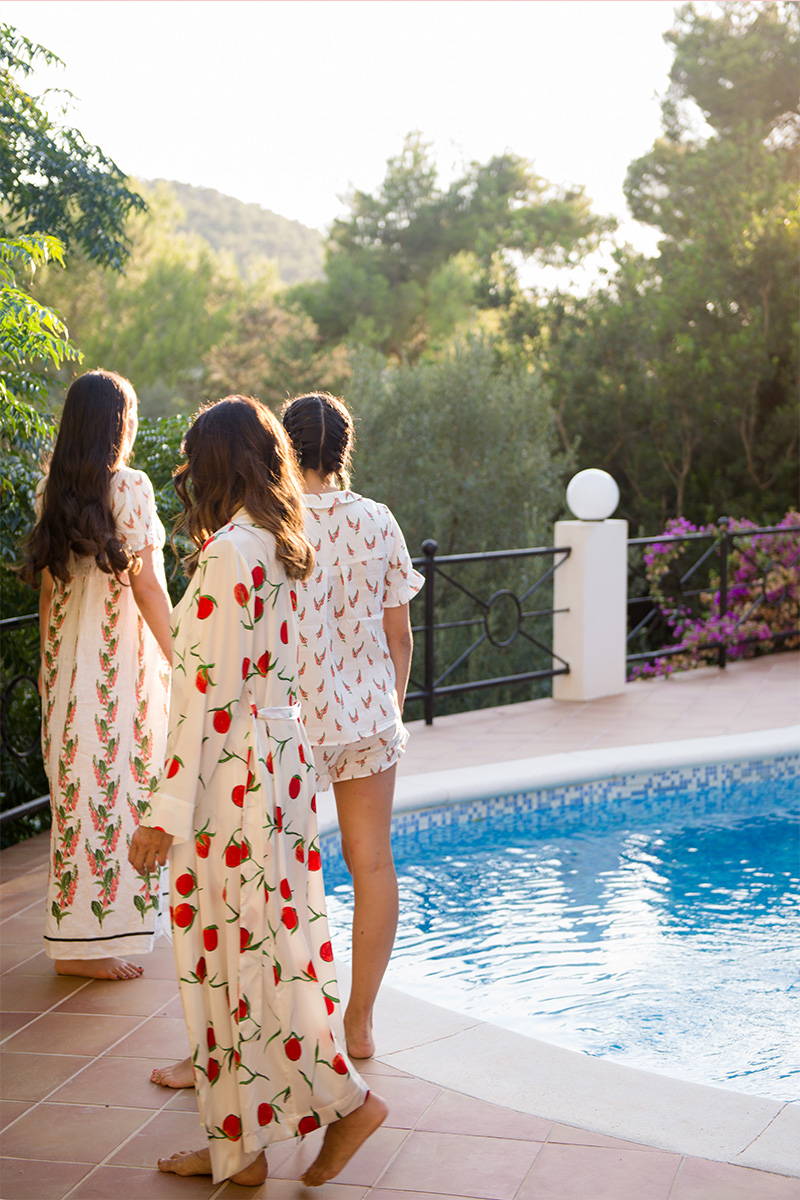 With lockdown measures just lifted, many have not been able to see their families. You were lucky enough to be together during these strange times, how has lockdown been for you?
Yasmin: It has been an unprecedented globally challenging time for everyone. But I tried to look at the positives coming out of it.
For me it was that we spent some precious mother daughter time together. We are very close. As the girls are growing up & often busy with their own lives, I think we all realised how valuable it is to have time together. We had long lazy lunches & dinners watching movies, playing some games.
My daughters & I have fun doing things, like this shoot, together. They make me laugh like no one else!
Tell us about any new family routines you fell in to as you settled in the new rhythm.
Yasmin: In the beginning, not only was it us as a family, but also the the girls boyfriends, my boyfriend & his son in our lockdown bubble so we created a cooking rota. Taking the time to sit down together to eat is such a simple & bonding joy.
As a family you are all very eco conscious and invite others on this journey with you through your family videos, have you found the slower pace of life more recently has helped you to reflect on this and what lessons will you take from the past few months.
Lauren: I've had the time to organise my things, rediscover old books from my shelf and items in my wardrobe, some of which I've fixed or customised, and to re-sell or donate items I don't need anymore. I've also developed my home-cooking repertoire and have enjoyed finding the time to cook healthier and less wasteful meals instead of relying on takeaways. Usually my weeks are filled up with social calls most evenings and I was pleasantly surprised by how I adapted to spending so much time at home, I'll be indulging in more movie nights in future.
Maddie: I've always bought vintage clothes, so it's been a good time to go through & edit what I have. I also enjoy finding pieces for the home so I've had more time to do that.
Yasmin: As an eco-event organiser & the founder of Ecofêtes sustainable homeware brand & TV, I have been flying the green flag for some years now. I try to show people in an entertaining & accessible way with my "How To Be Green" diaries & my "Ecofêtes Inspiration Talks" (where I talk to green pioneers of all ages) that anyone can be more sustainable if they want to be.
Yasmin, you are preparing to publish your new book, 'The Perfect Picnic', tell us about what inspired you to write it and how it came about.
Yasmin: I have a new book "How To Eco Pic Nic" book coming out next month, which is full of vegetarian recipes & tips on how to create an eco-pic nic for all seasons. Putting together a pic nic, choosing the right hamper or bag, plates, cutlery & preparing the food to celebrate with friends or even just to spice up your lunch time at work, is a very satisfying ritual. It's also less wasteful as your portions need to be more considered to fit into to the bag or basket.
Green style and good food also does not have to break the bank. Proceeds from the book will go to the Lady Garden Foundation that helps fight gynaecological cancers.


Ecofêtes, launched back in 2018, has gone from strength to strength now with events, TV and product lines - We have loved seeing your journey. Your work in a very collaborative way with friends such as Jo Woods & Jade Jagger. Have you got any exciting collaborations in the pipeline you can tell us about?
Maddie is now acting but is a talented artist too. The first exclusive Ecofêtes organic cotton fabric print that we have just launched in our homeware, is her illustration Alfie our adored pup & Ecofêtes mascot.
We love styling for shoots and used some of our vintage Ecofêtes glassware & crockery in the YOLKE Girl shoot as I feel that there is a synergy with our brands. As well as creating beautifully designed pieces, Yolke is also conscious of the origins & production & journey of it's pieces. I love that Yolke offer recycling of their clothes. We have to have a circular approach to business & life, to be successfully sustainable. Coming out of lockdown has only galvanised me into action as far as running my sustainable business & living a greener life, because I think for the first time in modern history we have had a chance to stop, re-assess & re-start. We potentially have a second chance.
I think the future can be green. This does not mean compromise, but an eco-lux quality upgrade.
Maddie, we love the Stephen Webster shoot you featured in earlier this year. It very much looked to the viewer it was a case of your artistry and modelling in perfect correlation. Do you have any more shoots lined up this year and was this the first time you had worked with Stephen Webster?
I'd never modelled for Stephen Webster before but had always wanted to, so I was thrilled to do it. I'm acting mostly theses days,I have just finished filming for a small part in the feature Film 'Alone' and I am continuing filming as the lead in a short film called 'Infinity Mix" in September. I'm enjoying getting back into work.
Lauren, as a producer the film world is slowly finding its feet again as shoots and film productions start back up. Tell us about your latest project or something you are looking to get back to this year?
I launched my own production company back in January called Dogtooth Films, sadly the pandemic came along just as I was getting started! Not being able to work for a few months was a little nerve-racking but things finally feel like they're getting back to a slightly more normal speed now. I've got a short film in post-production that I'm really excited about and some music videos coming up – it's a relief that I can get back to growing a portfolio and working with creatives, masked face- to –masked face.
Did you have a favourite piece from the collection?
Lauren: I love the Orange Silk Juno Slip, orange is one of my favourite colours.
Maddie: I love the Foxglove Valentina Dress I have. It's such a romantic cut. Very Pride & Prejudice!
Yasmin: My favourite Yolke piece has to be the leopard print silk slip. It has became a day to night staple in my wardrobe!
Thank you so much for being part of this collection of stories of Mothers and daughters and your time in lockdown. We were thrilled to be able to see you at home in Ibiza (though we couldn't make it our ourselves!) and hope you enjoy the remainder of your holiday.
Follow Yasmin, Maddie and Lauren on Instagram |