After years of eyeing up the cult London jewellery brand's beautiful jewels, we had the great pleasure of meeting Rosh Mahtani, The founder of Alighieri, at her design studio in London. Dripping in gold and fresh water pearls, our September YOLKE Girls welcomes us to the world of Alighieri by walking us through her collections, whilst elevating 'pyjama dressing' to a whole other level.
Photography by Lissi Waite
Tell us how the idea for Alighieri came to life
I studied French and Italian at university and became obsessed with Dante Alighieri. I loved the Divine Comedy because it's a story about being lost in a dark wood, which I think everybody can relate to. I was going through a rough time in my life, and his poem was almost like a comfort blanket for me. That's when I decided that I wanted to make one piece for each of his poems. I'll always love the opening quote:
Nel mezzo del cammin di nostra vita,
mi ritrovai per una selva oscura
che la via diritta
era smarrita.


When lockdown came into effect in March, how have you and your team managed to keep the Alighieri ball rolling?
We've all been working from home, with parts of stock and components split between 14 of us, which has definitely been a challenge! The team are amazing and work so hard, we've been communicating well and trying to support each other as much as possible.


In these strange times, bringing people together virtually and letting your nearest and dearest know that you love them have become more important than ever. Love letters was such a beautiful concept of bringing your online community together. Do you have any stories to share from this?
It was so magical and necessary to write and receive those letters during such a scary time. I think it really represented the catharsis that can be found in literature and art. I loved the variety of quotes we received; from beautiful Maya Angelou poetry to the lyrics of Prince. I highlighted that everyone finds comfort and solace in different ways.
Love in the Wasteland collection was shot by you through pains of glass. This is a true representation of art coming to live where right now we all feel we are living behind glass. Tells us about that.
It was so funny, because we shot that in January, before Covid-19 was part of the lexicon. We had no idea what was to come. I just wanted to create a collection that was about the beauty of human relationships, closeness and separation, finding love in the midst of our modern-day wasteland.


Refuge - How did you come to work with them?
As this pandemic started to affect everyone's lives, we were hyper aware that for so many women, being at home was the most dangerous place to be. After doing some research and speaking with the Refuge team I felt compelled to try and help in any possible way. The idea of being trapped and controlled is just so heart breaking; I wanted to work with Refuge because they have a fantastic infrastructure and ethos that allows them to affect real change.


Congratulations on the Queen Elizabeth Award, did this come as a surprise and how has it impacted your business?
Thank you so much! It was a complete surprise! I had no idea! It was lovely to shine a light on the manufacturing in Hatton Garden and the beauty of local production.


How important is sustainability to you as a designer?
For me, it's about doing as much as is realistically possible: buying pieces that are forever-pieces, with stories that you can invest in and that mean something to you. We don't do trends at Alighieri, it's not about newness, it's about layering with what you have, so none of our collections become out of date. We use recycled bronze and make everything within the 4 streets around our studio. Sustainability is so important to us, in all ways, sustaining each other, making sure we work well together and care about the team as much as about the customer. It's all cyclical, ultimately!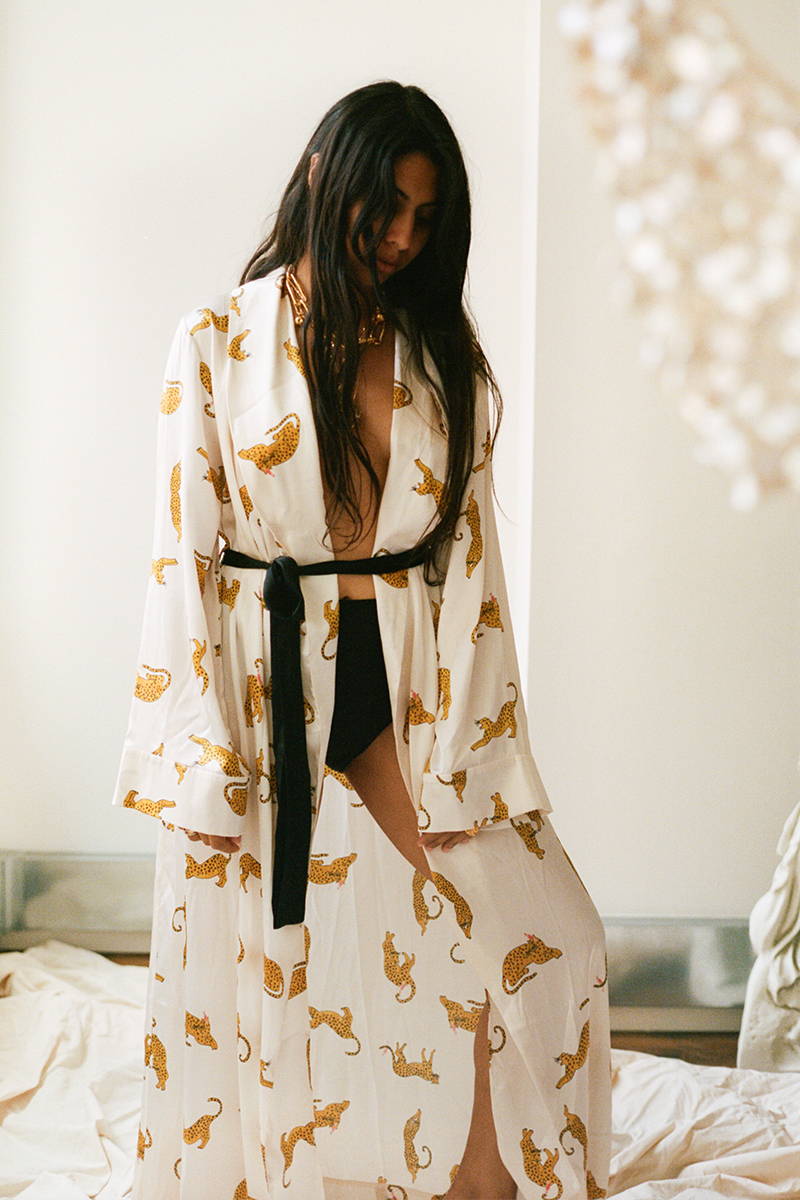 What's next for the brand?
"We just finished our pop up called the Alighieri Old Town, which was an amazing little restaurant. I am now working on the next collection, which will launch in late September. It's all about going back to the roots of what makes us who we are. We shot the collection on an incredible group of women, and I'm so excited to share it!"
Thank you Rosh!
Follow Rosh and her adventures on Instagram | @roshmahtani
Alighieri is a collection of jewellery inspired by Dante Alighieri's 'Divine Comedy'; each piece corresponds to one of the poet's 100 poems. As the pilgrim journeys through the realms of Hell, Purgatory, and Paradise, he encounters mythical creatures, scraggy landscapes, and terrifying demons.
Explore her collections online and Instagram | @alighieri_jewellery