Meet our June YOLKE Girl, Polly Fern!Polly is an illustrator, ceramicist and self proclaimed canary keeper. She walks through a day in her creative life. Read on to discover Polly's whimsical illustrations and what she has lined up this year.


Hi Polly, how have you been during lockdown? We can see you have a cute new addition to the family?

Hello, I have been keeping well thank you and yes we have had two new additions to the family through out the months of lockdown. One being Grayson the Green Gloster Canary that my neighbour found lost in her garden. We already had a green canary called Olive who was very similar so it was so strange to have also found him. They have since paired up and fallen in love! Like it was meant to be.Edgar is our newest arrival, he is a 10 week old Whippet puppy and we adore him.
Home is on the Norfolk/Suffolk border here in the UK. We live in a pink Georgian house just by the river, which has been lovely and very lucky on the days at home when we are able to pop out for a quick walk.


You shot all your pictures on location at home – do you have a favourite room in the house?

My favourite room would have to be my bedroom. The colours and textiles in the room make me feel so calm and I do love a lazy morning laying in bed!


How would you describe your style?

I would say quite eclectic, I enjoy mixing vintage with new pieces. I also love fashion as a craft, and discovering small brands through instagram. I tend to stick to shopping with small brands, second hand, vintage and a few designer treats then and again. I think my home and work really feeds into the clothes I wear with the colours and patterns.
You are a ceramicist and an illustrator, where do you draw your inspiration from?
From so many different areas, my background is in illustration, so I love to discover old houses and gardens to discover the stories and people behind them. I also have a passion for antiquing, particularly furniture and ceramics, so these often inform my pieces, whether it might be the shape of a piece of furniture, or an old wooden tea caddie which then feed into the shapes of my ceramic Romantic Vases. I love researching into antique ceramics, and collect Victorian Transferware plates, I also adore Wedgewood, Castleford-Type teapots, and lustreware. A day in the V&A ceramic collection, Fitzilliam museum, or at a shop called Richard Scott in Holt is a dream day out for me.



What are 3 things you would always find in your beautiful studio?
My treasure chest box of ceramic test tiles, I make these miniature tiles as colour and illustration tests to lead on into developing my final collections. Also my beloved marbled sketchbooks where I create all of my drawings for designs and shape ideas for new pieces. You will also find my massive kiln which I use to fire all of my handmade ceramic pieces. There is a lot of equipment needed for making and firing handmade ceramics.


Walk us through the day in the life of Polly.
I work from home so most days are spent here, I will wake up and first thing I do is feed my Canaries and Edgar. Then I will have my breakfast and package all of my shop orders. I will pop into the market town I live in to post my orders and probably nip into the antique shop en route back home. My ceramic studio is a building that my boyfriend and I built outside in the garden, so I may be working in here for the rest of the day, or if I am doing illustration work then I will be in the studio inside where I create all my paintings and drawings.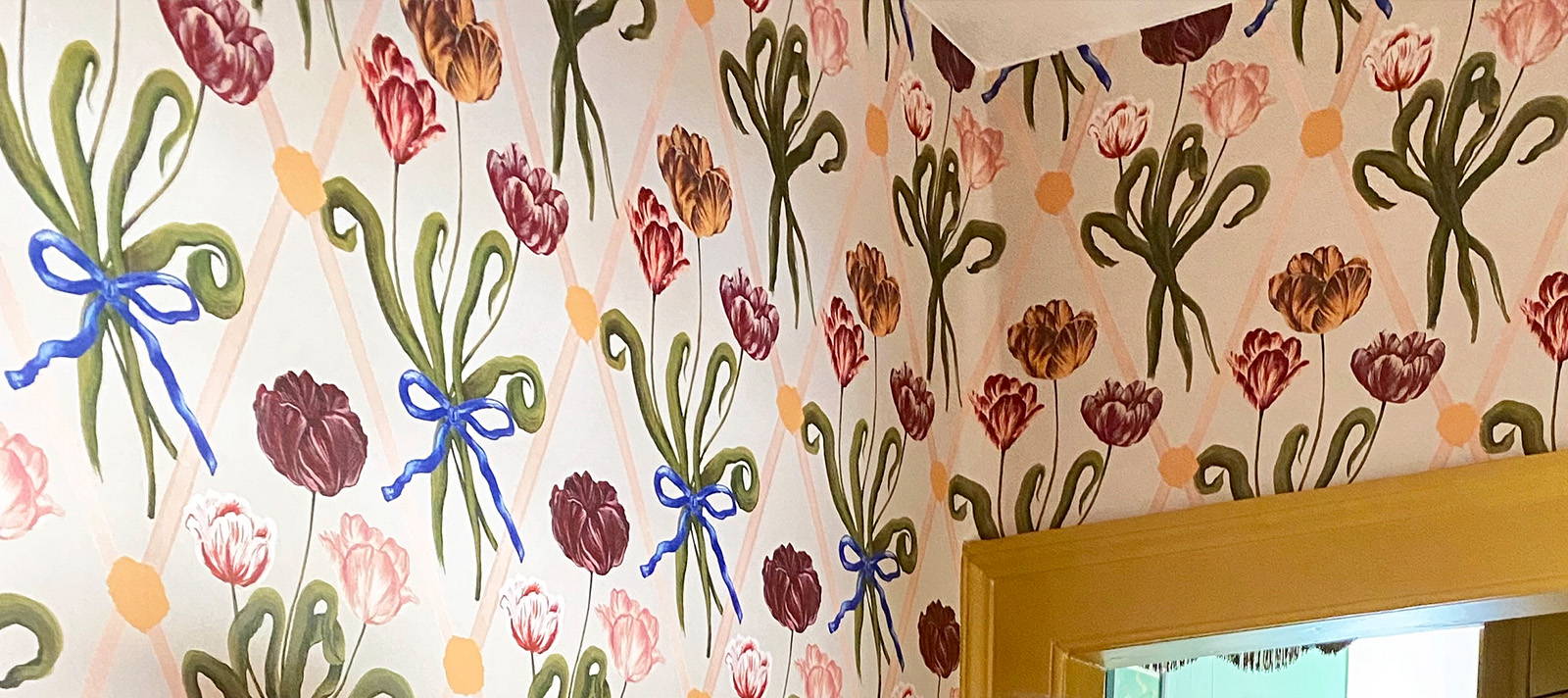 Do you have any exciting projects coming up?
Yes, I am working on lots of exciting projects and collaborations currently, most of which I can't share any details of quite yet! I am planning on doing another Pop-Up Shop in London later on in the year so I am already starting to make collections for the shop, and to plan out the space.


What are you most looking forward once lockdown is completely lifted?
Seeing my family and friends, popping into my favourite coffee shop, antiquing and visiting the auctions!
Thank you Polly!
Follow Polly and her adventures on Instagram | @pollyfern
Inspired and informed by traditional ceramic shapes, but slab build to create a modern take on a traditional vessel. Each piece is handmade and bisque fired by Polly Fern. They are then dipped in a Tin glaze with each one painted upon using oxides and pigments. These loose paintings upon the ceramics, make each piece an original work of art. Each piece is illustrated with a drawing inspired by places, historical and childhood stories.