BREAKFAST IN BED
WITH ROMEO & JULES
To celebrate the launch of YOLKE'S SS'21 Sleepwear Collection, we teamed up with our friends at Romeo & Jules to deliver breakfast in bed to our YOLKE Girls around town and country! The restrictions meant that as we could not meet our girls in person, our virtual pyjama party was a way of bringing us all together during these strange times. Silk pyjamas paired with bespoke menus by R&J stationery, and breakfast baked by Ella & Lela made for the perfect excuse to stay in bed all Sunday morning.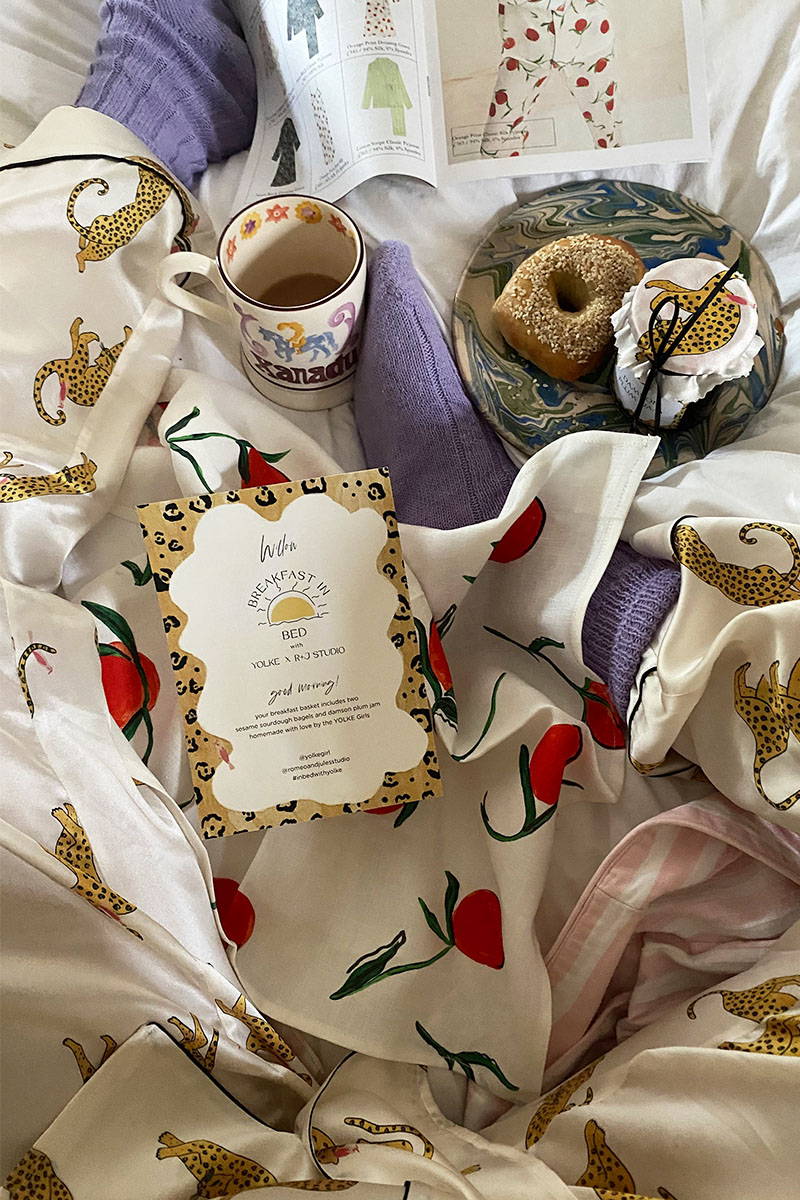 Make an impression with Romeo & Jules, the creative studio local to the home of Yolke, Notting Hill. As a woman-owned brand with a focus on branding, stationery and events, it was the perfect collaboration to bring to a matchy-matchy morning in bed, providing the ultimate breakfast in bed experience and perfect excuse for a lazy Sunday spent in silk.
The SS'21 Sleepwear Collections features the signature stretch silk in classic Yolke prints, perfect for the autumnal and festive seasons ahead. We are so excited to announce the return of a long-term favourite, the Prowling Leopard print, beautifully designed by illustrator and artist Isabelle Feliu in 2018. This print quickly became a firm favourite with our Yolke girls and customers, back and ready for Christmas ! With the year quickly coming to a close, the brand new orange print will bring you nostalgia for better times with the joyous festive season.
All of these prints are available in LiTTLE YOLKE, when time together is spent better when you're matching with your little one.
The YOLKE Girls wore three of their favourites prints for the event, matching with their bespoke hand-drawn stationery for the ultimate matchy matchy moment. All were made with YOLKE's signature stretch silk blend, which will keep you warm in winter but cool in the summer with a soft feel against your skin. The patterns are too beautiful to be confined to the bedroom, and can be styled for daytime events. All prints are also available in the LiTTLE YOLKE SS21 Collection.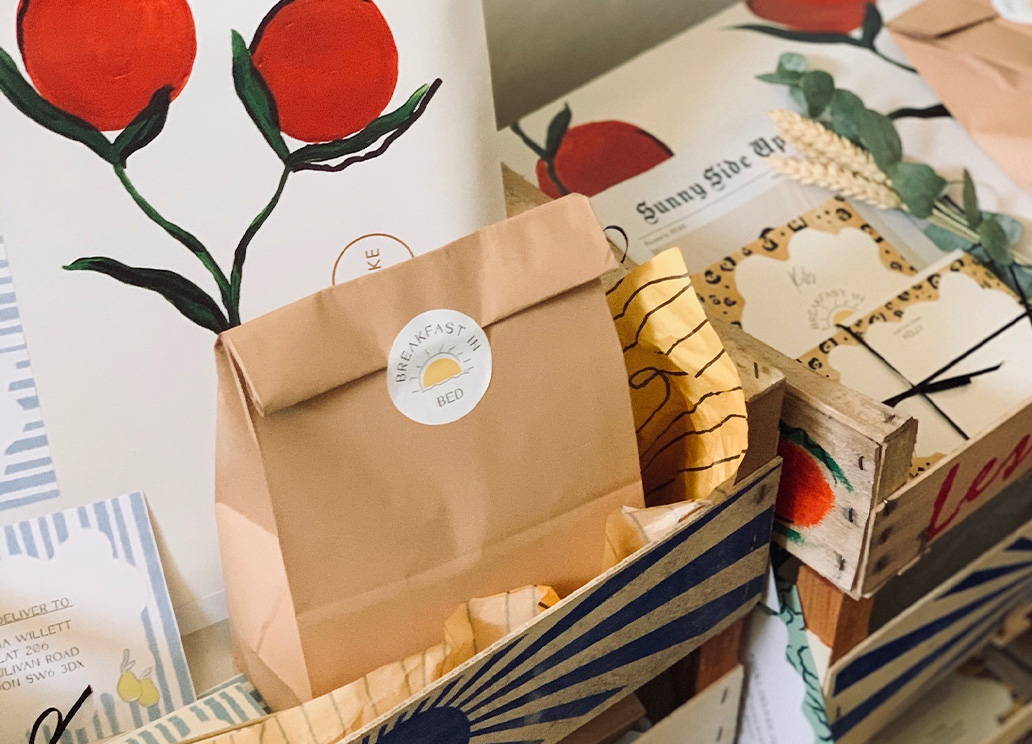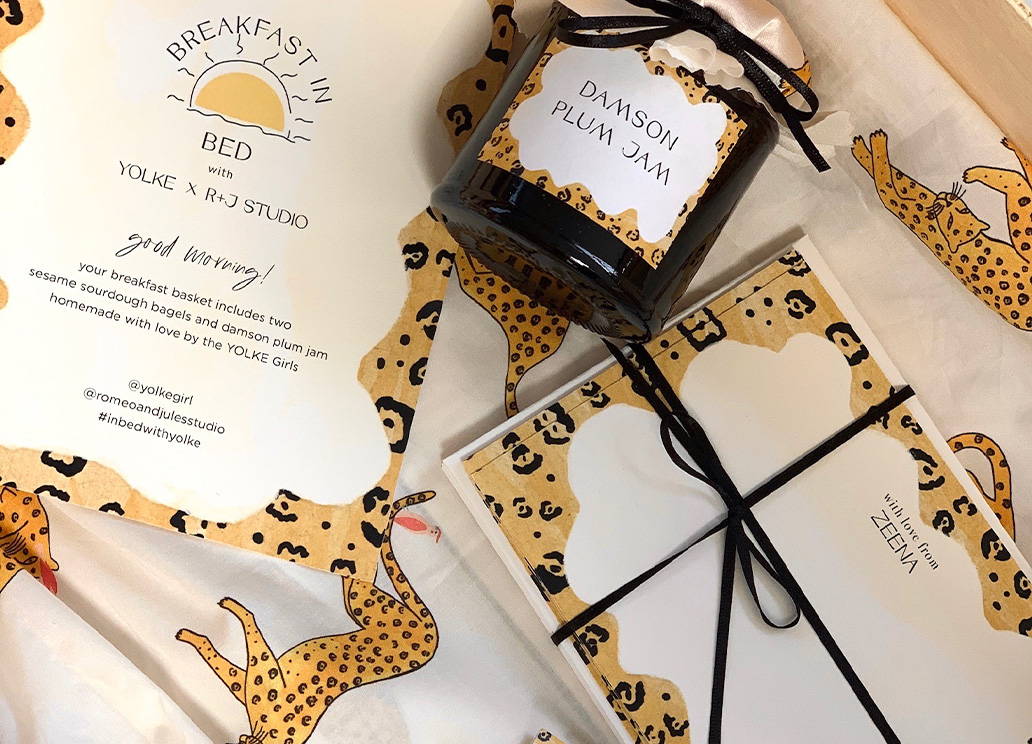 Citrine Stripe Classic Silk Pyjama Set
The citrine stripe is a fresh take on the classic stripe in citrine yellow and ice blue with contrasting panels on the outer leg. Trimmed with a delicate silk piping with silk buttons and the flattering revered collar, it is also available in an eye mask!


Prowling Leopard Classic Silk Pyjama Set
The Prowling Leopard print by Isabell Feliu is back! Since selling out in the 2018 collection, the print is back for 2020. To complete the look, the set is also available in a silk gown.


Orange Print Classic Silk Pyjama Set
This exquisite classic set features hand painted clementines, cut from elegant ivory with pops of deep orange and verdant green. To complete the look, the print is also available in a dressing gown, silk slip dress and eye mask


The Online Yolke Community
With all the changes and newness since lockdown, it was a pleasure to treat the YOLKE Girls as an appreciation for all the support within the YOLKE Girl Family.
Having YOLKE Girls come together while we're apart: as it was impossible to get together in person, it was lovely to see the ladies enjoying their lazy Sunday morning across Instagram and stories in YOLKE's brand new silk nightwear.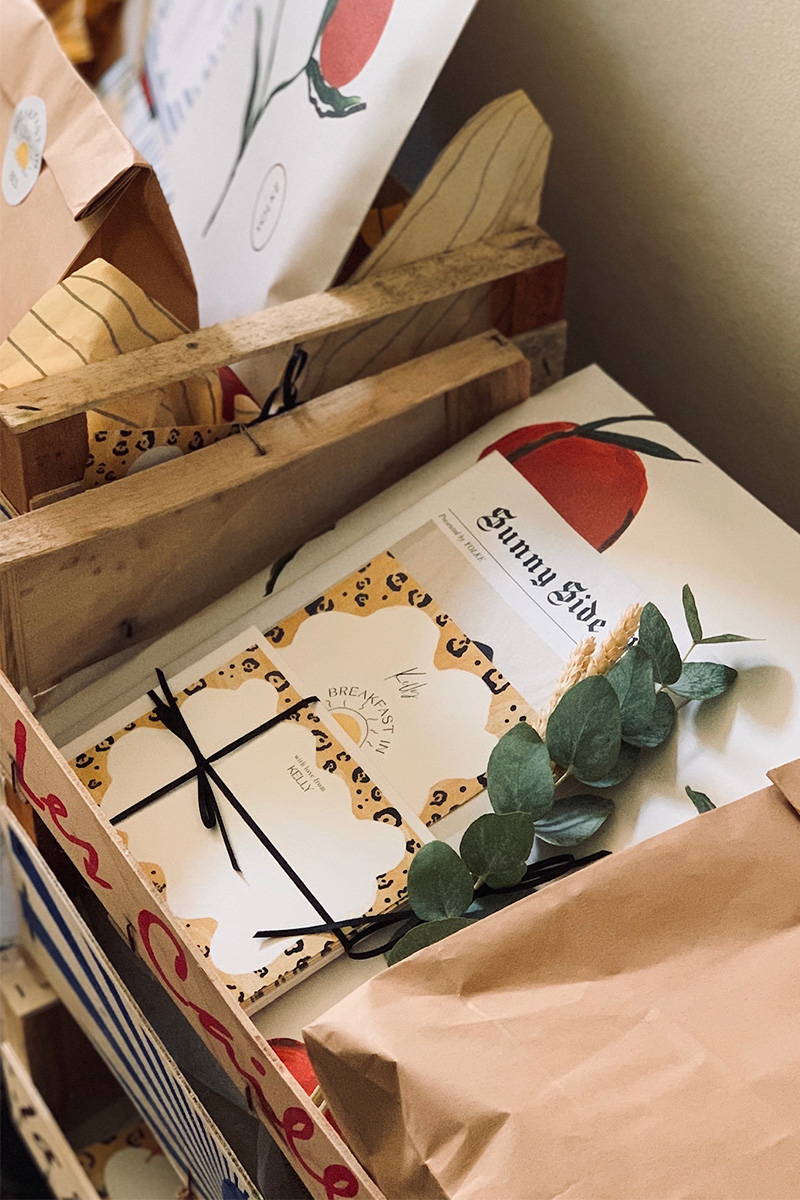 The Ultimate Breakfast in Bed Experience
Thank you to Romeo & Jules for such a fun collaboration and many thanks to all our girls about town and country who shared the ultimate Breakfast in Bed Experience with us!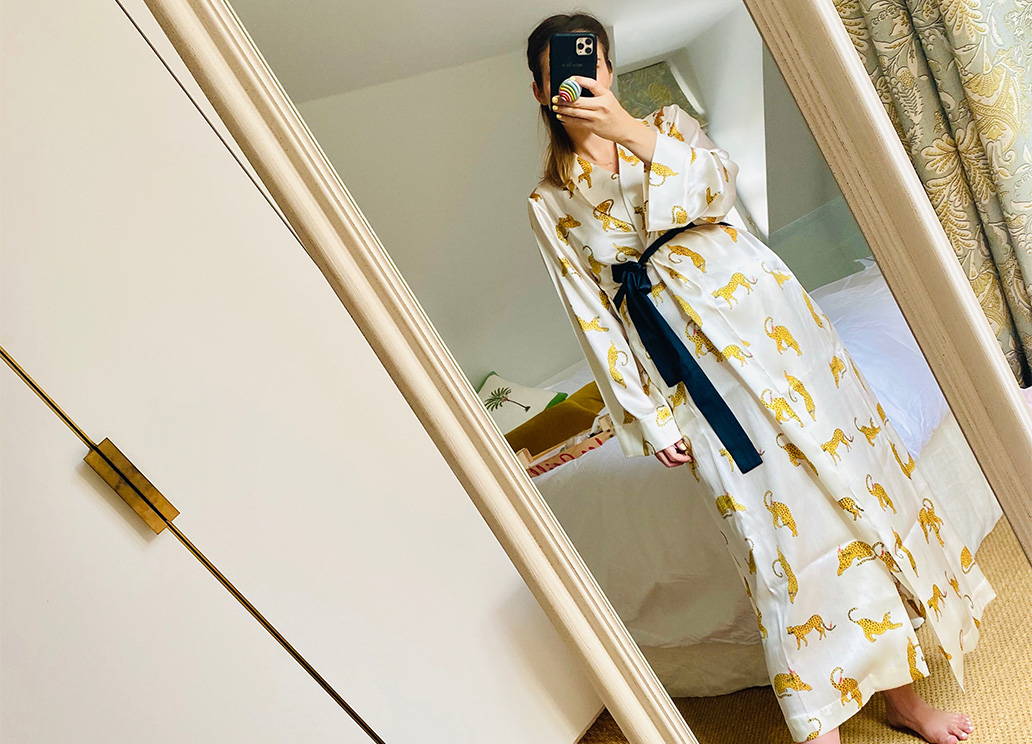 in the Prowling Leopard Silk Gown

Fashion and Lifestyle Blogger and style columnist at Hello! Fashion Monthly |@thelondonchatter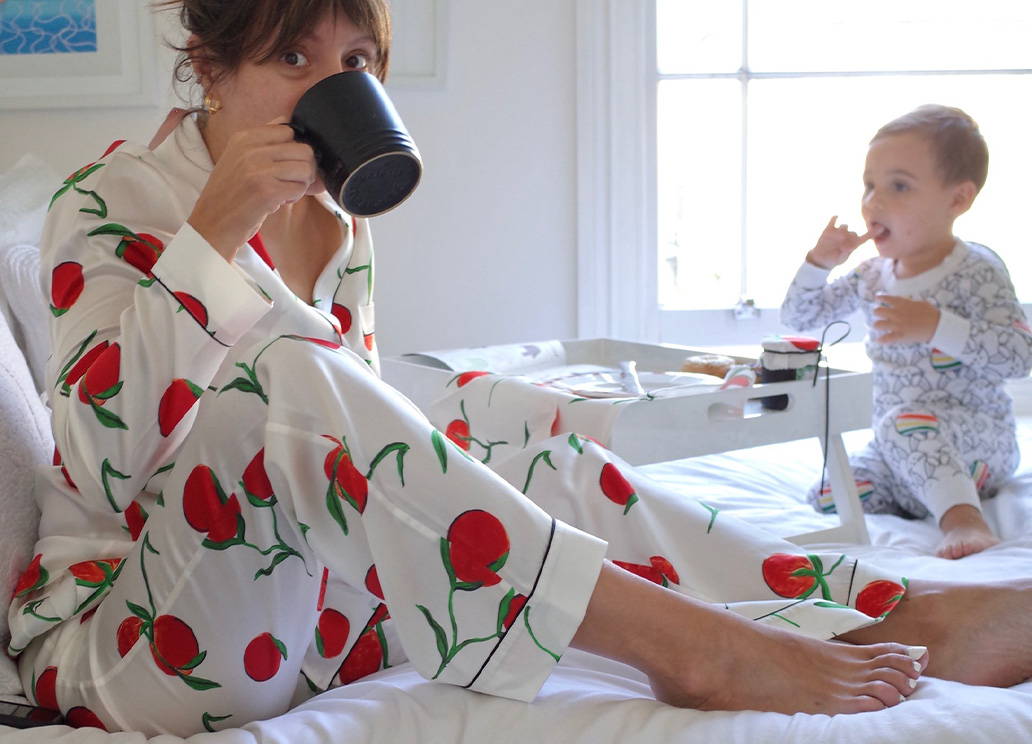 in the Orange Print Classic Silk Pyjamas
Editor of 'Work Work Work' and the anti-perfectionism project surrounding social media, author of 'Why Social Media is Ruining Your Life' and Mum to Grey | @Katherine_omerod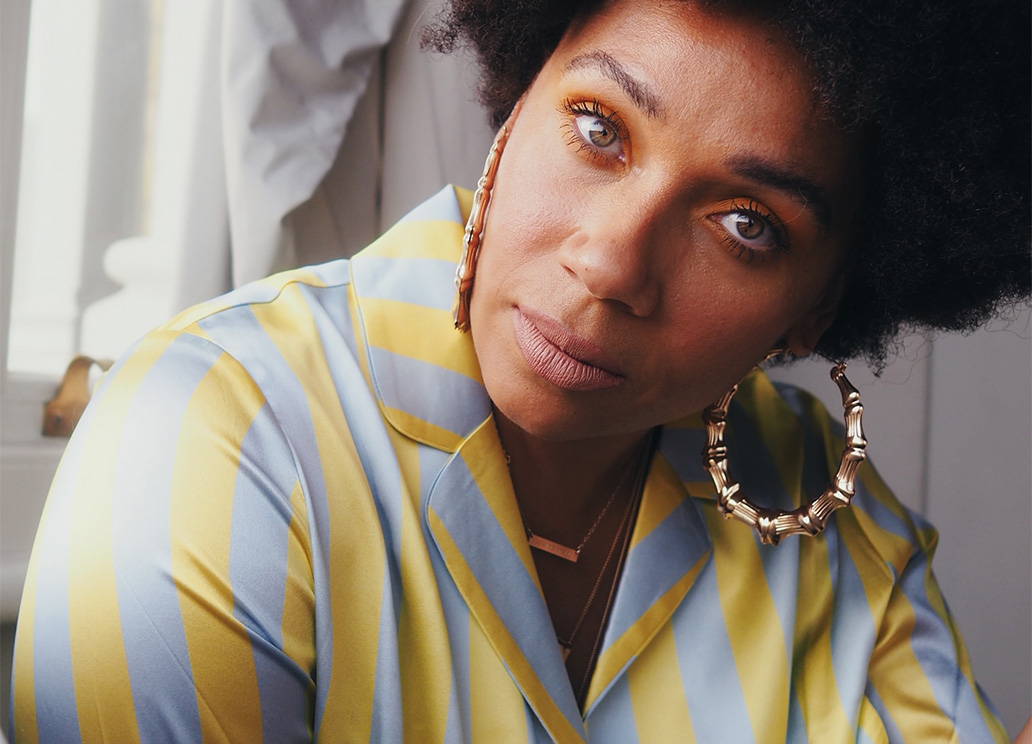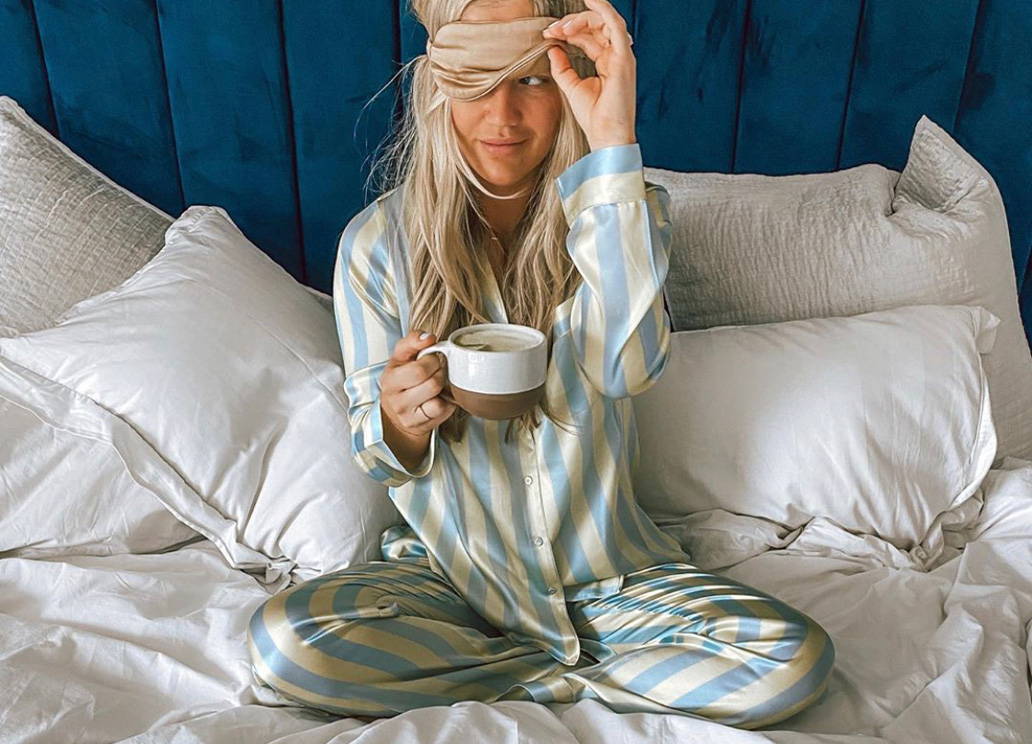 in the Citrine Stripe Classic Silk Pyjamas
Fashion blogger Natalie Lee feeling simultaneously comfortable and glamorous | @stylemesunday
in the Citrine Stripe Classic Silk Pyjamas
Made in Chelsea Star and first time um to Ottilie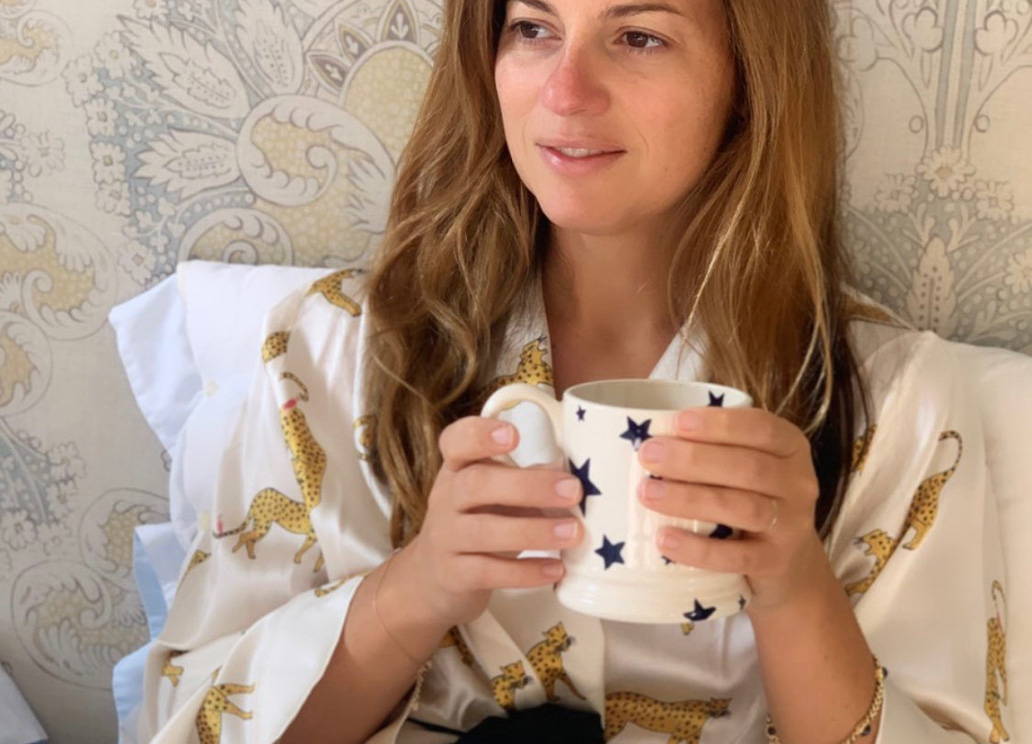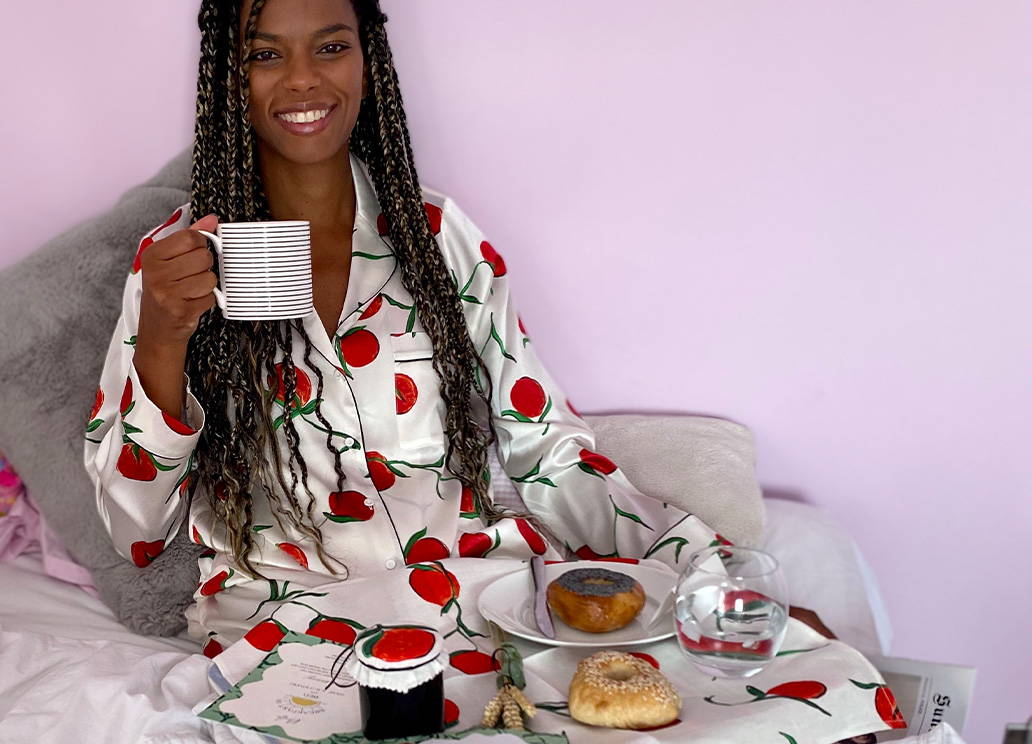 in the Prowling Leopard Silk Dressing Gown
Former Vogue Editor, co-founder and CEO of Collagerie, the shopping platform aiming to demystify fashion with styling advice and inspiration | @serena_hood
in the Orange Print Classic Silk Pyjamas
Founder of Malaika Foundation, empowering the next generation, Ambassador of The Global Fund and Mother to Cara & JJ. | @noellacoursais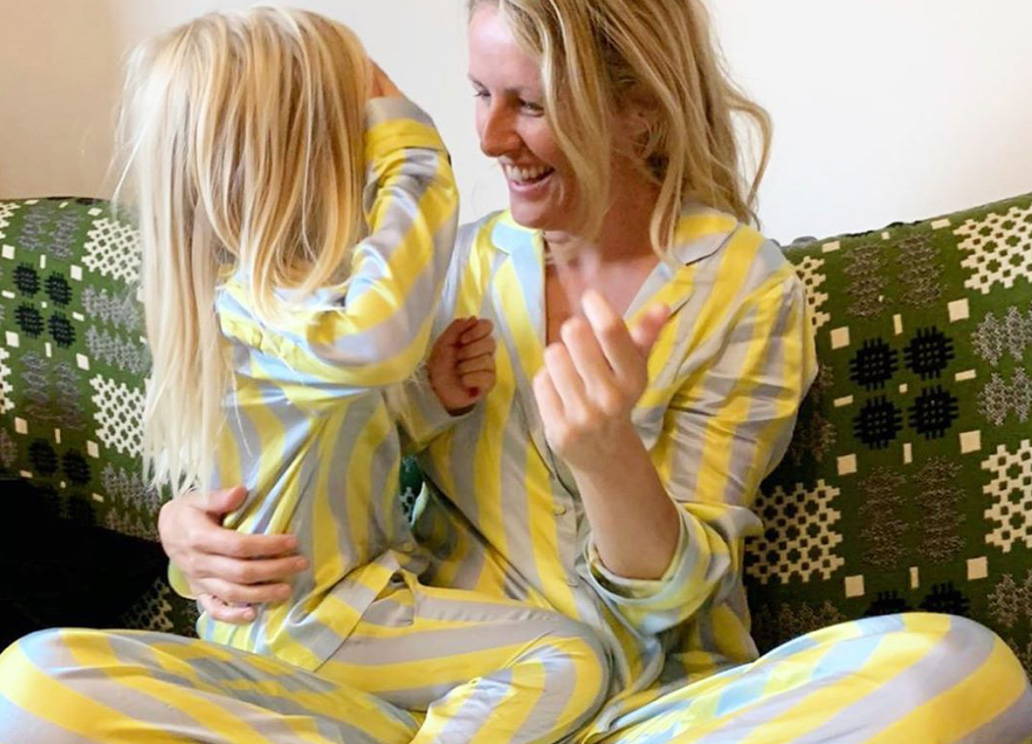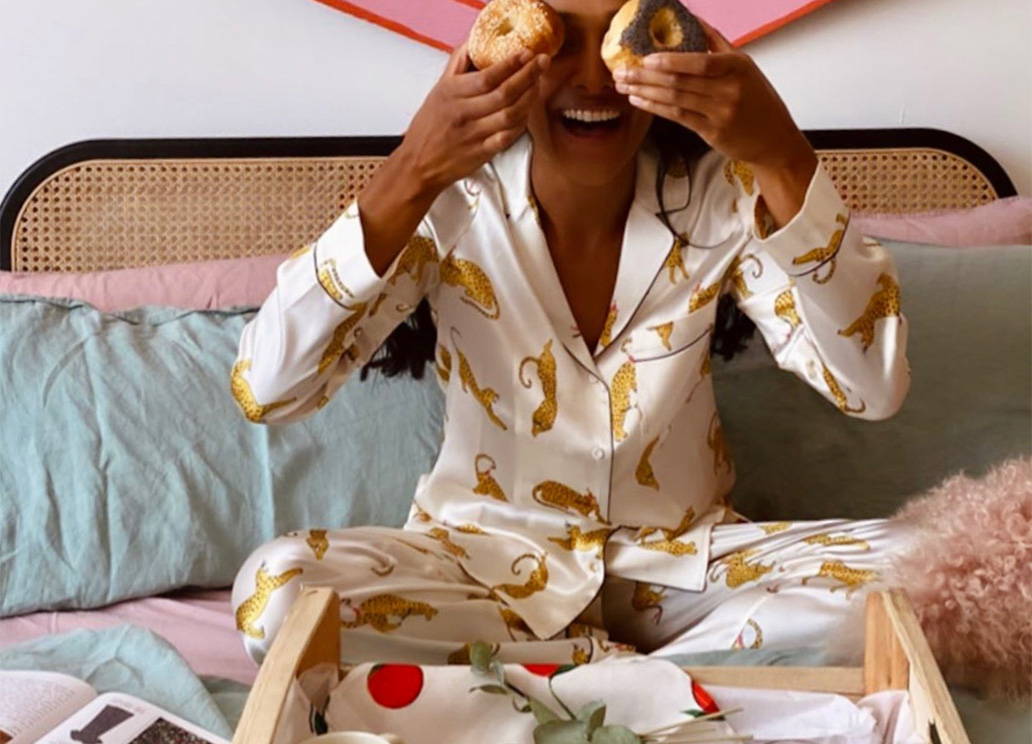 in the Citrine Stripe Classic Silk Pyjamas
Chief Creative Officer at The Evening Standard, Author of Cosy: The British Art of Comfort and mother to Astrid.
in the Prowling Leopard Classic Silk Pyjamas
Art Director,Stylist, Author and illustrator. Co creator of the #instarainbowchallenge and lover of colour and crafts | @heartzeena